Map Unavailable
Date/Time
Date(s) - 09/20/2019 - 09/22/2019
8:00 am - 5:00 pm
Location
Capital Factory - #1600
Categories No Categories
https://www.eventbrite.com/e/5th-austin-diversity-hackathon-atxdivhack-tickets-62292670053?utm_source=eventbrite&utm_medium=em&utm_content=follow_notification&utm_campaign=following_published_event&utm_term=5th+Austin+Diversity+Hackathon+%23ATXDivHack&aff=ebemoffollowpublishemail
5th Annual Austin Diversity Hackathon #ATXDivHack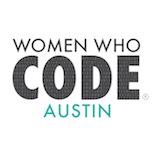 Join Women Who Code Austin for our 5th annual diversity hackathon! #ATXDivHack
Please note: by signing up you are agreeing to abide by this code of conduct.
For updates, please follow us on Twitter
This hackathon is a celebration of diversity. Anyone who supports diversity is welcome — no matter your level of technical knowledge.
We are providing a space for people of all backgrounds who want to start building their tech portfolio or finish up a tech project while learning new skills. Previous experience in tech is **NOT** required. If you are an advanced coder, we are looking for mentors. We are also looking for volunteers. If you are nervous about attending a hackathon, just volunteer and see what it is all about!
Plus, we have a parallel FREE workshop track for anyone who wants to come and just start learning, learn more, or meet people.
Not sure what to work on? We encourage participants to look into open data or civic hacking projects, for more information check out Open Austin.
Code of Conduct
Women Who Code (WWCode) is dedicated to providing an empowering experience for everyone who participates in or supports our community, regardless of gender, gender identity and expression, sexual orientation, ability, physical appearance, body size, race, ethnicity, age, religion, or socioeconomic status. Because we value the safety and security of our members and strive to have an inclusive community, we do not tolerate harassment of members or event participants in any form. Our Code of Conduct applies to all events run by Women Who Code, Inc. If you would like to report an incident or contact our leadership team, please submit an incident report form.
*Weekend overview:
Friday 9AM – 5pm: FREE Workshops all day long (schedule coming soon!) 
Friday 6PM: Happy Hour
Come enjoy refreshments, network with hackathon attendees, form teams, and meet other diverse folks in tech.
Saturday 8:00am – 8:00pm: Hack Time
Start working on your project with your team. We will serve breakfast, lunch, dinner, and some snacks throughout the day.
Saturday 8:00am – 6:00pm: FREE Workshops all day long (schedule coming soon!) 
Sunday 8:00am – 4:00pm: Wrap up hacking in the morning, presentation and awards in the afternoon.
* Schedule subject to change. Please check this event for up-to-date info and follow us on Twitter for latest news: @wwcodeatx
Parking Info:
See information here.